Vietnam's coal imports (including those from foreign-invested enterprises) in July witnessed a signficant increase from the same month of 2022, despite down from the record high recorded last month.
The country imported 5.43 million tonnes of coal in July, surging 96.73% a year ago yet down 25.17% month on month, preliminary customs data showed.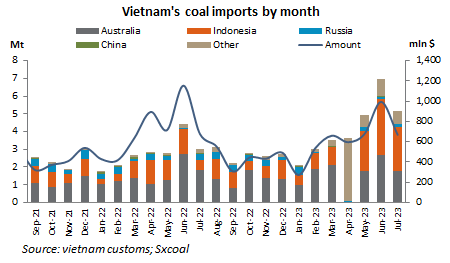 The data revealed that Vietnam's coal import value in July amounted to $669 million, down 0.88% year on year and 32.61% month on month.
Indonesia was the top supplier in the month, delivering 2.5 million tonnes, jumping 330% from a year earlier but down 19.77% on the month. Vietnam imported 1.75 million tonnes of coal from Australia, down 3.4% on the year and 35.24% month on month.
In the first seven months of 2023, Vietnam's accumulated coal imports were 29.56 million tonnes, showing a notable 51.23% increase from the preceding year.
The country imported 31.98 million tonnes in 2022, compared with 36.29 million tonnes in 2021 and 54.81 million tonnes in 2020.
The country exported 263,000 tonnes in January-July 2023, down 65.3% year on year. Coal exports in the whole year of 2022 totaled 1.2 million tonnes.