Australia's coal exports were worth A$8.14 billion in June, falling 9.76% on the month and 48.10% from a year ago, according to the Australian Bureau of Statistics.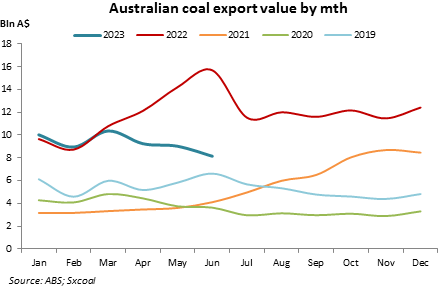 Coal exports to Japan were valued at A$2.68 billion in June, down 6.74% from May and 48.74% year on year, accounting for 33% of Australia's total coal export value; coal exports to India amounted to A$1.22 billion, down 20.36% on the month and 49.50% on the year; and coal exports to China's mainland were worth A$1.04 billion, a slight 0.56% rise month on month and compared with zero in the same month last year.
Coal exports to South Korea were worth A$831 million in June, slumping 43.40% from the month-ago level and 67.04% from the same period last year. Exports to China's Taiwan were A$818 million, a sequential decrease of 13.83% and yearly fall of 51.32%.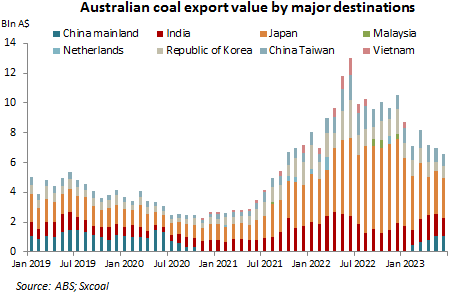 From January to June in 2023, Australia's coal export value totaled A$55.74 billion, a year-on-year decrease of 21.69%. Among them, the export value of coal to Japan was A$20.10 billion, down 15.67% year on year.