Thailand's thermal coal (including bituminous and sub-bituminous coal) imports in July reached the lowest of 959,000 tonnes since February 2022, down 57.2% year on year and 19.95% month on month, customs data showed.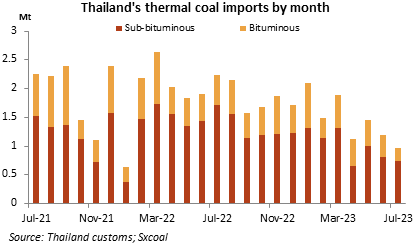 Bituminous coal imports reached 216,000 tonnes in July, falling 58.72% on the year and 45.41% on the month. Australian bituminous coal was registered at 138,700 tonnes, a slump of 66.7% from 413,900 tonnes a year ago; shipments from Indonesia were 76,400 tonnes, down 29.52% from the preceding year of 108,400 tonnes.
Sub-bituminous coal imports totaled 743,000 tonnes, down 56.74% year on year and 7.4% month on month. Almost all the supplies were from Indonesia at 742,900 tonnes, decreasing 51.82% from a year earlier.
Anthracite imports were 12,000 tonnes, rising 29.7% year on year and far higher than 545 tonnes a month ago. In July, the country imported zero volume of coking coal, while the month-ago and year-ago levels were 55,000 tonnes and 550,000 tonnes, respectively.
In January-July, Thailand's thermal coal imports accumulated 10.20 million tonnes, dropping 16.16% year on year. Bituminous coal imports reached 3.22 million tonnes, down 5.08% year on year; sub-bituminous coal imports declined 20.45% to 6.97 million tonnes.
The country's coal consumption amounted to 16.47 million tonnes during the first half year, down 6.32% on the year, official data showed. This included 10.13 million tonnes burned by power plants, down 2.04% year on year. Coal for power generation accounted for 61.5% of the country's total coal use over the period.