Coal exports from Colombia in July continued the decline for the second straight month with a year-on-year drop of over 30%, official statistical data showed.
The country exported 5.0 million tonnes of coal in the month, falling 30.18% on the year and 3.43% month on month, according to the National Department Administrative of Statistics.
Comparatively, coal exports in July 2022 were 7.16 million tonnes, while the export volume for June this year was 5.18 million tonnes.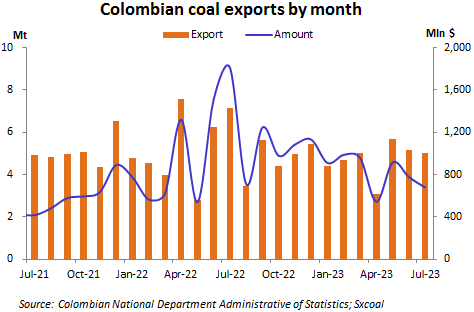 Total coal exports in the month amounted to $679 million, down 62.47% year on year and 12.65% on the month. The average export price for coal was calculated at $135.78/t, indicating a decline of 46.25% compared to the previous year and a decrease of 9.55% compared to the previous month.
During January-July 2023, Colombia's coal exports totaled 33.05 million tonnes, a 10.71% decrease from 37.02 million tonnes a year earlier. The export value reached $5.77 billion, 19.17% lower than the preceding year.